Branded Content is an evergreen investment | About EVERGREEN MEDIA
Even powerhouse brands like Chanel are unlocking the power of branded content to solidify its heritage status among millennial audiences globally.
CHANEL knows that - like its own investment in its brand stewardship- investing in branded content at scale is an evergreen investment. An evergreen investment continually pays dividends to the media holder long after other forms of disruptive ads have ceased producing commercial value for brands.
Let's dive into what CHANEL has done recently across video and podcast in regards to branded content in the last week.

Through creating the 3.55 CHANEL PODCAST has position itself as a cultural lightening rod. This places CHANEL in a prime commerical postion with affluent millenials because the brand is interacting with their target audience daily through a variety of soucres. The CHANEL PODCAST paired with the HYPEBEAST Co-Sign enables CHANEL to maintain its $9.2B in revenue in 2018.
CHANEL is wise.
CHANEL earns BILLIONS.
Be like Chanel.
CHANEL is owned by 2 Billionaire brothers who keep a low profile but are effective in making the necessary investments in brand marketing to power sustainable topline growth. The Fashion Law writes, " Despite tapping one of the industry's most famous creative directors, Karl Lagerfeld (in 1983), to front one of the most famous brands in the world, Alain and Gérard Wertheimer, the billionaire brothers who have privately held Chanel for over 30 years, are two of the least famous owners in fashion. Unlike Pinault and Arnault - regular front row fixtures at their brands' seasonal runway shows - the Wertheimers have managed to largely shy from the public eye."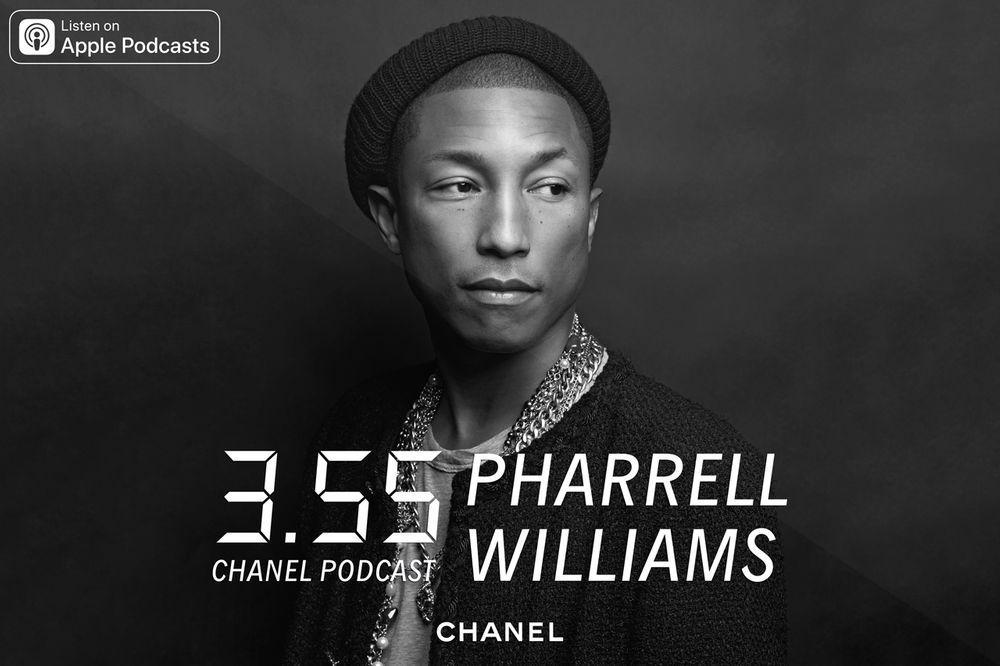 CHANEL is building a family with consumers as viable members of this family.
Content sets the tone on how the family communicates.
Chanel has created evergreen content with is 3.55 podcast by elevating their brand and their "family of collaborators" into culturally relevant icons. In addtion, by creating series based branded content Chanel can quickly interchange its "family of collaborator" based on who their target market prefers to recieve content from.
Make no mistake, Chanel is focused on driving top-line growth because the HYPEBEAST co-sign is focused on driving sales behind the Pharell x Chanel Capsule collection.
Engages audiences at scale with culture defining content.
As Pharell mentions in the podcast, "Chanel partnered with him to create effortless growth."
I will argue that this growth is not effortless but the result of a excellently executed multi-channel branded content strategy.
Branded Content builds a rapport with its target audience to create the credibility necessary to drive sustained growth across generations.
Right now we are at an economic crossroads. In 2019, Millenials have overtaken Baby Boomers as the largest generation in America. According to the Washington Post, " The number of millennials is projected to reach 73 million, aided in part by immigration, while the boomer population, born from 1946 to 1964, is expected to decline to 72 million this year as members die off. Boomers (the only generation officially given a name by the Census Bureau) peaked in size at nearly 79 million in 1999."
Millennials communicate differently and brands must adapt. Brands need to optimize their communication strategy to reach this power consumer group who will possess an "aggregate annual income is expected to surpass 4 trillion dollars by 2030" (Brookings, 2018).
Branded Content positions your brand offering as an experience in the mind of target consumers through connecting to their generational culture. The brands that harness the power of branded content at scale in omnichannel marketing campaigns will unlock a war chest of cash as we head into 2030. Right now according to CNBC, " 72 percent of millennials prefer to spend more money on experiences than on material things" (CNBC, 2016).
ELEVEN is building the marketplace for branded content. We are making it easier than every for publisher and advertisers to work together to distributed branded content everywhere as buying a disruptive display ad.
Why now?
Because Millenials prefer content over ads.
ELEVEN makes branded content the most viable form of media investment for publishers & advertisers alike.
Enjoy the ROI on EVERGREEN MEDIA with ELEVEN today.
Sign up for our marketplace beta now.